Photos aren't for your phone, they're for your WALLS.
In this digital age, it's slowly becoming less and less common to print the images you have of your family. Let's be honest, most of those photos probably came from your phone, or your family's phones, and there's nothing wrong with that. But I'm not here to create images you can use as your phone wallpaper, or as the background on your desktop at work. 
Of course you can use the images from our sessions that way – but my goal? I want these memories on your walls. I want your tiny newborn's toes memorialized on an heirloom wood print that you and your family can look admire for years to come, and their first birthday in an album on your coffee table. 
The investment for your session is broken into two components: Your session fee, and your product purchase.  This way you only purchase the photos you love! 
Session Fee: $200
The session fee will include prop usage, client wardrobe for maternity, newborns and siblings, shooting time and one ordering appointment. There are no print products or digital images included in this fee itself.
Collection & Products
After your session, you'll come back to the studio for an ordering appointment, where we look at the images together, and choose what you'd like to have included in your portrait order.
First, we'll select your favorite images. 
The absolute first step during your ordering session, is choosing your favorite images.
These images will be lightly edited, but won't be the absolute final product yet – that magic happens after you choose which images are your favorite, that way they can get 100% of my attention. 
Then, we choose which products are right for you.
Collections are made up of three parts. First, we choose wall art to display in your home. We'll look at samples here in the studio, so that you get to see what these products will actually look like on a wall once they've arrived for you. You can touch and feel the wood block prints, see the details on deckled edge prints, and check out the aesthetic difference between a wood block print and a canvas print.
Then, we choose how many digital prints you'd like to receive in your package, so that you have those magical images to use as wallpapers for all of your technology. 
Finally, we match you with an album or folio pack to add into your collection. These can even be upgraded to include an heirloom box, that will look gorgeous on any coffee table or bookshelf!
The final pricing of your collection is based upon the specific products and number of digitals we include for you, and we'll spend time during your ordering session ensuring that you're completely clear on the cost of the items you're ordering.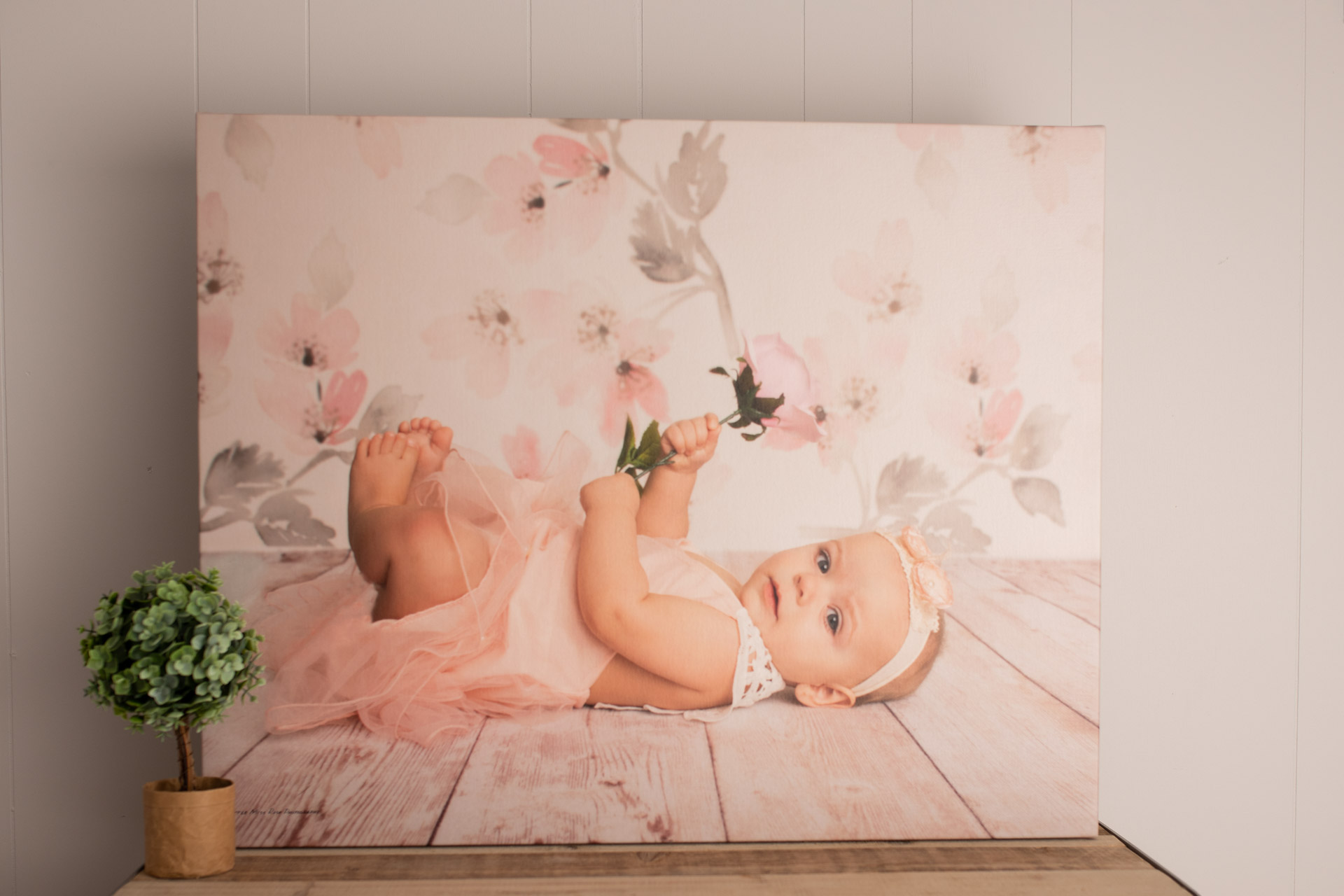 Each frame is completely hand built, and painted using precise, gorgeous brushstrokes. It's coated with an acrylic varnish to protect your canvas from discoloring over time from exposure to UV rays in your home. It also makes it super easy to clean – believe it or not, you can even clean it with Windex!
This is our most versatile, and most popular product available. Each print is sealed with acid-free archival matting. They can be placed directly into a frame, stand on their own, or act as an album if paired with an heirloom presentation box!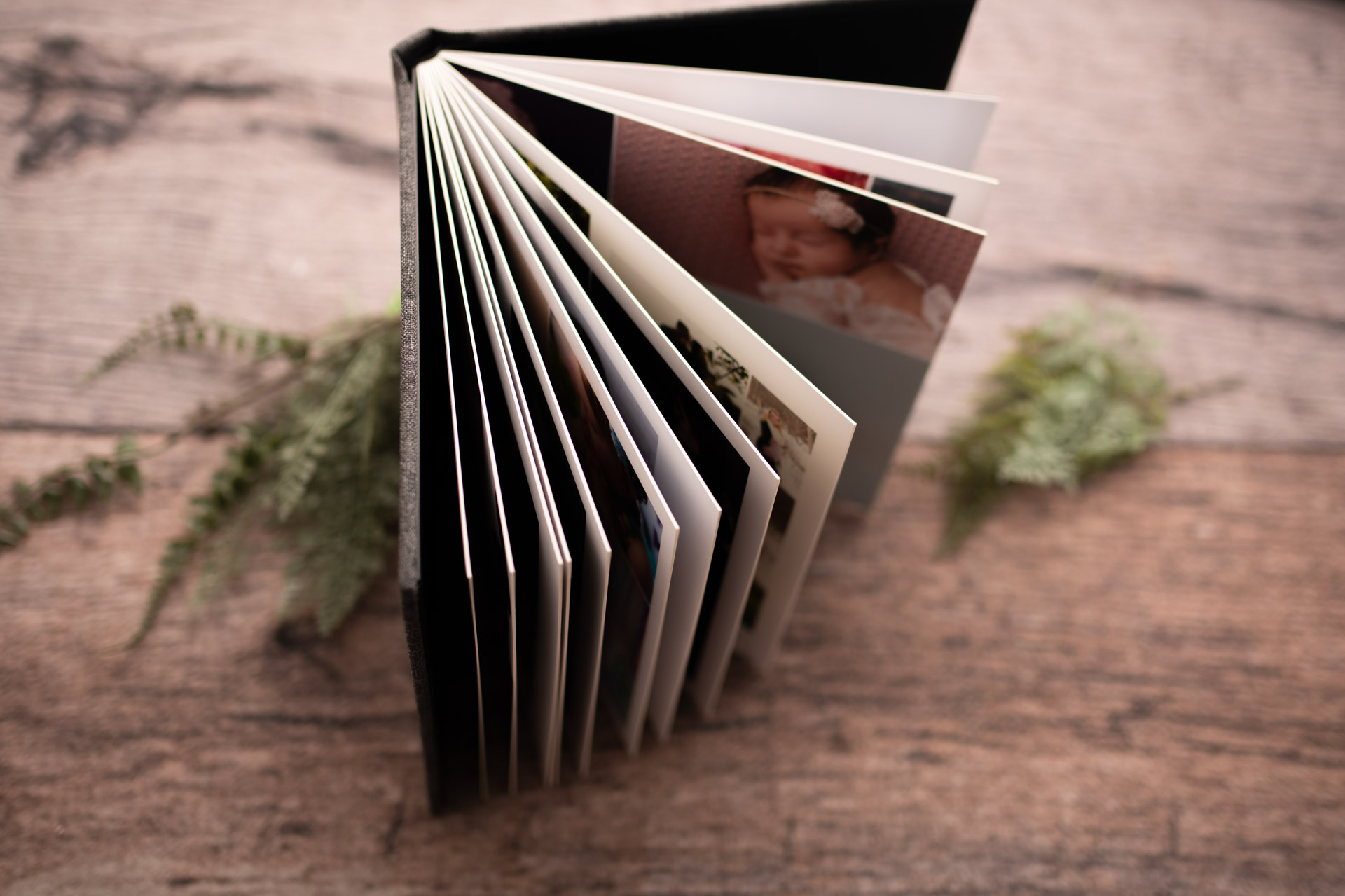 These albums are the definition of luxury. They're handcrafted using animal-friendly vegan leather or linen, with layflat pages thicker than a dime, so that they don't bend or fold. Each page is custom designed to highlight your favorite moments from your session. Plus, they're delivered in a protective album box!
These heirloom prints mesh the beautiful look of wood with the full color and richness of your images. Fine art paper is mounted directly onto the wood, allowing for a completely smooth finish. You can choose between keyhole or thick twine hanging options, allowing you to achieve the unframed look without the grain and texture of a canvas print. 
Such an amazing experience, I recommend to anyone! Michelle is super personable, amazing with little ones & our daughter loved her. Everything is well thought of and she was very flexible with our thoughts even getting a few shots special requested. We will definitely be back!! Thanks again Michelle!
She was amazing with my colic baby! She has the patience as a goddess! It took us an hour to take my daughter first photos and she did everything to keep her calm during her photos ❤️ I will definitely be going back for family photos and my daughter cake smash!!!!
... I just want to say thank you. Thank you for being not just an incredible artist with so much talent, but for being so comforting to both my daughter and myself. Your impact is still lingering, which is very meaningful to me. I will forever recommend you to everyone I know...